Seedr is the most effective web-based torrent client available.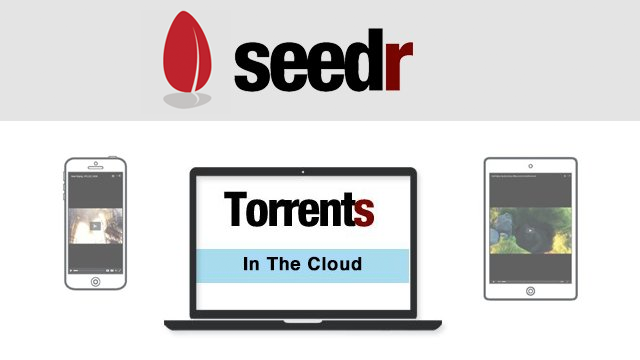 Shared files over the BitTorrent network (which has been around for more than 15 years) have become one of the fastest and safest methods of file distribution. Torrent clients, such as Azureus (now Vuze), as well as more contemporary and extensive ones, such as Transmission, which recently launched version 3.0, have been available virtually since the beginning of the technology's development. What happens, though, when we are unable to install software on a computer? Seedr, a service that would allow us to perform everything from a web browser, is one of the best solutions available to us right now.

Before anyone questions why we could use services such as Seedr, we can think of a number of scenarios in which we would be unable to download a torrent client. When we are using a computer that is not our own, such as our office, we might want to download a torrent from that machine. Otherwise known as operating system restrictions, this is something that occurs in both the iOS and the recently renamed iPadOS operating systems, to mention just two examples. Seedr is compatible with Apple devices as well.
Instructions on how to download a torrent using the Seedr.cc service
The most frustrating aspect of Seedr is that it is only accessible through registration; nonetheless, this is a small price to pay for the ability to download torrents from any location or on any device. The measures that would need to be taken would be as follows:

1. We launch a web browser.
2. Navigate to the project page.
3. To complete the registration process, we provide an email address and a password. It is critical that you provide a valid email address; otherwise, we will not be able to complete the registration process for you.
4. we go through and discover the email in our inbox, and then we finish the registration process. It is possible that we will have to wait a long time, and that it will not arrive at all. Upon discovering this, you must send an email to the project support staff to inform them of the situation. Steps 1 through 4 will no longer be required to be repeated.
5. After entering the main page, we will see something similar to what you have shown below these lines (without the added file). Now all that remains is for us to obtain a.magnet link. Because of a legal issue, we are unable to provide search websites for.magnet links, despite the fact that there may be many instances in which downloading a torrent is permissible.
6. Copy the link.magnet onto our clipboard. If we have a.torrent file, we can use the Torrent2Magnet program to convert it to a magnet file.
7. After that, return to Seedr and paste the link into the text box. It will be added to the list of tasks.
8. Once the job has been added, we must begin the download process. The options to download, copy, and delete will show when we move the cursor over it. We must first select the first icon from the list. It will present us with the option to download the file in the same way that we would download any other file from the internet.
9. We'll have to wait for the download to finish.
10. At the end, we decompress the file because Seedr automatically compresses it into a ZIP archive.

Works in every browser, but there are certain limitations.
The most appealing feature of Seedr is that it is compatible with any browser. The same way that there are services such as instant.io and btorrent.xyz that, while I hope they improve, only work when they want (which is practically never), Seedr works flawlessly in all sorts of browsers, including the most restricted mobile devices. To work directly from the browser, the only requirement is that it permits you to download files, which is something that even the iPhone browser supports.

The disadvantage is that it has some limits. The free edition only allows us to download files up to 2GB in size, but we can enhance this capacity if we spread the word and request people to join us on social media sites such as Twitter, Facebook, and Pinterest. If you require complete freedom from constraints, we can upgrade to Premium status with one of three alternative types of subscription:
- The basics are as follows: for € 6.95 / month, we can download files faster, play them in high definition, and increase the storage limit to 30GB.
- Pro: for € 9.95 / month, we can utilize private trackers, save more files, download faster, and store a maximum of 100GB of data on our computers.
- The Master plan adds the ability to mount Seedr as a network drive and even run scripts, increasing the maximum storage capacity to 1TB for € 19.95 per month.
If we look at it logically, what is presented in this post is not very interesting for those of us who can install a client on our computers. However, individuals who cannot do so and intend to make Seedr one of their favorite web services are unlikely to think the same way.